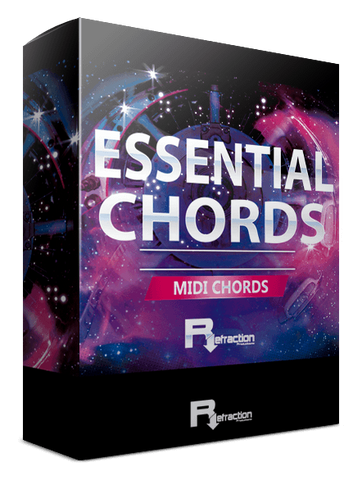 Refraction Essential Chords - MIDI progressions
Midi,
Why a chord progressions library?
Chord progressions are the heart of the song. And they are a good way to start producing since they'll help us to start and create the song structure.
When you start your project just drag one of the MIDI files contained in this library: the one you like the most or the one you find original. Then play with the chords (change tone, change order, change notes...) until you find the sequence you like.
With that base copy and paste it to fill several bars and thats it: you have your canvas. 
That canvas will help you to create the bass line, the drop, the lead... Drag then some loops and samples, percussions... and see how it goes.
With this library you'll work faster and will be ahead. You'll be able to prototype ideas quite fast.
We use it. Our students too. They see great progress compared to how they used to produce before and to other young producers that start with more difficult parts.
Inside the library you'll find
Included files:

20 MIDIs chord sequences composed of 2, 3 & 4 chords
20 WAV audio loop as examples
MIDIs with tone included, you can easily change them though.
Wav loops stereo, 16 bit, 44.1 khz
Suitable for any genre
And of course ready to import to your favourite DAW and use them with your VSTi's.
100% Satisfaction. Or money back
This is a 100% Risk Free product
If for any reason these sounds are not for you and you are not going to use them, tell us and we'll refund your purchase.
Only thing we'll ask from you is to not to use the material. That's it.
Stuff to know
How do I download the material once purchased?
When an order is completed you receive an email with a link to download the material.
You'll be able to download 5 times anytime you want. The link won't expire and will be there until you reach your download limit.
If for any reason you need more downloads, please let us know and we will work it out.
What DAW's and applications can import your material?
Our libraries, projects & plugins follow industry standars. Audio files (such as WAV and MIDI), VST's or any other format we sell can be used in any DAW or application that follow those audio standars, which is almost every app out there.
DAW's like Ableton, Cubase, FL Studio, Logic, Reaper, audacity... o audio/video editors like audacity, camtasia, screenflow...
What about licenses, royalties and usage rights?
Material acquired here is free of royalties.
That means that once purchased you can use it in any kind of audio/visual production commercial or not, without any further requirements to use those rights. And of couse as many times as you want.
Only thing not allowed (obviously) is to resell or distribute the material with or without commercial purposes.
If you want to be able to resell or redistribute our material, please contact us.
Refraction Producers
Born in 2012 under the label Refraction Productions as a Spanish loops & samples store, we have been producing top quality material for producers since then.
That's why during all this time we have helped thousand of producers from beginners to experts to produce new songs featured in record labels and danced all over.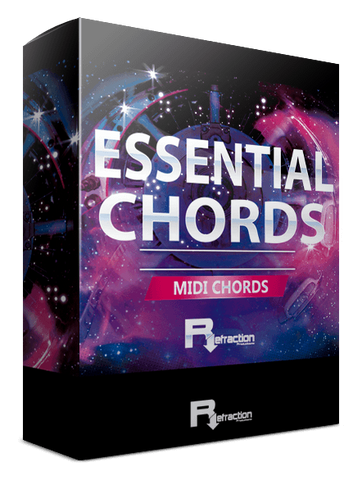 Refraction Essential Chords - MIDI progressions
Midi,
*Remember: if you buy it and for any reason you are not going to use it, you can use the guarantee and get your money back.
---
We Also Recommend
---