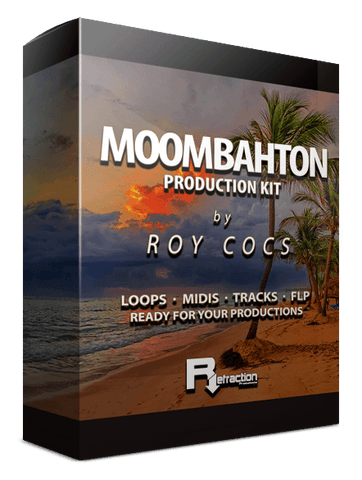 Moombahton Production KIT - By Roy Cocs
Moombahton,
Moombahton Production KIT by RoyCocs
Roy Cocs bring us this production pack to produce Moombahton.
In this pack we'll find a construction kit (loops & samples), MIDIs, project tracks and a FLP project ready to import.
All this material will help you to create and practice new productions whatever your level is.
And best of all.... ALL FOR FREE
Inside this pack you'll find:
Loops

Chord 1.wav
Chord 2.wav
Chord 3.wav
Drums Group.wav
Fill.wav
Guitar.wav
Impact Deep.wav
Impact Drop.wav
Kick.wav
Lead Drop 1.wav
Lead Drop 2.wav
Pad Deep.wav
Pad Light.wav
Percussion 2.wav
Percussion 3.wav
Reverse Kick.wav
Sine Bass.wav
Snap.wav
Vocal Chop Drop.wav

Midis

Bass.mid
Chord.mid
Drop.mid
Vocal Chop.mid

Pistas

Track__Chord 1.wav
Track__Chord 2.wav
Track__Chord 3.wav
Track__Current.wav
Track__Drums Group.wav
Track__Fill.wav
Track__Guitar.wav
Track__Impact Deep.wav
Track__Impact Drop.wav
Track__Kick.wav
Track__Lead Drop 1 .wav
Track__Lead Drop 2.wav
Track__Master.wav
Track__Pad Deep.wav
Track__Pad Light.wav
Track__Percussion 2 .wav
Track__Percussion 3.wav
Track__Reverse Kick.wav
Track__Sine Bass.wav
Track__Snap.wav
Track__Vocal Chop Drop .wav

FL Studio project.zip
BPM: 128
Audio files stereo 24 bit Wav format, 44.1khz
Ready to import in any sequencer/DAW: Ableton, Cubase, FL Studio, Logic ...
And if you have any doubts, questions or anything, just let us know here: contact@refractionproductions.com
Enjoy this!
Refraction Producers
Born in 2012 under the label Refraction Productions as a Spanish loops & samples store, we have been producing top quality material for producers since then.
That's why during all this time we have helped thousand of producers from beginners to experts to produce new songs featured in record labels and danced all over.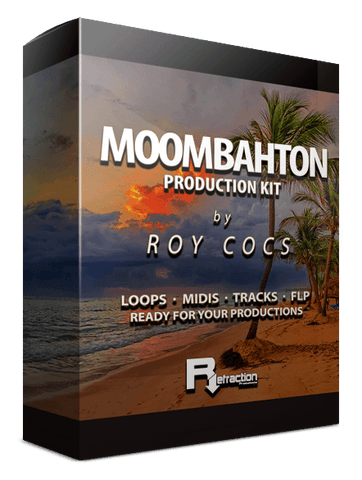 Moombahton Production KIT - By Roy Cocs
Moombahton,
*Remember: if you buy it and for any reason you are not going to use it, you can use the guarantee and get your money back.
---
We Also Recommend
---