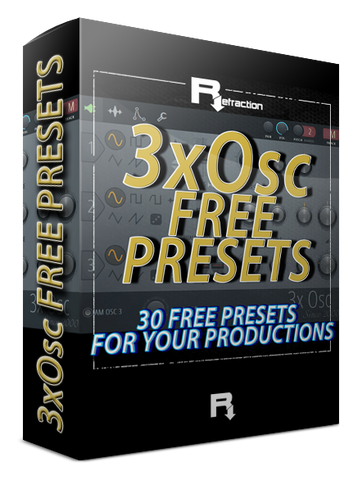 3xOSC 30 Free Presets
Presets,
Here we come with
A collection of FL Studio's 3x Osc Presets 
A collection of presets you can use right away in your productions with FL Studio.
Download and import the presets in 3xOsc and you'll have a new collection of interesting sounds ready to use in your future productions.
Here you have the list:
R3FP 001 Arp Moombahton.fst
R3FP 002 Arp Progressive.fst
R3FP 003 Arp Future.fst
R3FP 004 Arp Chill.fst
R3FP 005 Arp Beautiful.fst
R3FP 006 Bass Sine.fst
R3FP 007 Bass 808.fst
R3FP 008 Bass Moombahton.fst
R3FP 009 Bass Triangle.fst
R3FP 010 Bass Distort.fst
R3FP 011 Lead Hot.fst
R3FP 012 Lead Super Saw.fst
R3FP 013 Lead Dutch.fst
R3FP 014 Lead Moombahton.fst
R3FP 015 Lead Pop.fst
R3FP 016 Pad Deep.fst
R3FP 017 Pad Bell.fst
R3FP 018 Pad Pop.fst
R3FP 019 Pad Low.fst
R3FP 020 Pluck Amazing.fst
R3FP 021 Pluck Tropical.fst
R3FP 022 Pluck Animal.fst
R3FP 023 Pluck Future.fst
R3FP 024 Pluck Pop.fst
R3FP 025 Pluck HipHop.fst
R3FP 026 FX White Noise.fst
R3FP 027 Pluck Progressive.fst
R3FP 028 Pad Chill.fst
R3FP 029 Pad Dark.fst
R3FP 030 FX Waves.fst
How to get it
Proceed with the regular checkout. You won't be asked for money and will get the link in your email after placing the order.
Refraction Producers
Born in 2012 under the label Refraction Productions as a Spanish loops & samples store, we have been producing top quality material for producers since then.
That's why during all this time we have helped thousand of producers from beginners to experts to produce new songs featured in record labels and danced all over.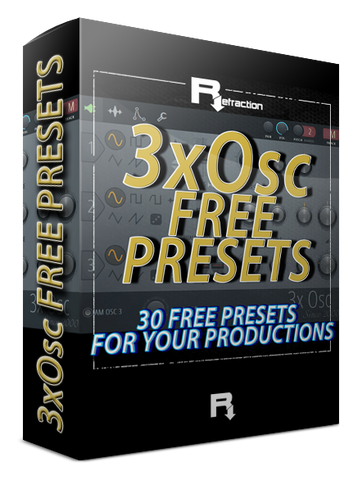 3xOSC 30 Free Presets
Presets,
*Remember: if you buy it and for any reason you are not going to use it, you can use the guarantee and get your money back.
---
We Also Recommend
---